I want to share my general positions on the issues that I believe are most important to restoring our country and our community to the 'America that I know and love'. Know that I will be listening to your ideas and concerns throughout my campaign and will represent our district, proudly and effectively!
Border Security

Americans with Disabilities

Dysfunction in the House of Representatives

What the 2024 Election is Really All About




In this developing tragedy, I will stand with our long-time allies in Israel, in their effort to hold Hamas accountable for the slaughter of October 7, 2023.
However, there is a point when 'enough is enough' and the punishment to Gaza is no longer commensurate with what began as a justified retaliation against Hamas. It may be impossible to fight just Hamas, without continuing to hurt the innocent Palestinians, which is unacceptable.
Negotiations, a cease-fire and a strategy to bring this war to an end, must be priority one. The total destruction of Gaza, and the continuing loss of innocent life, cannot be the intent or the outcome.
Once order is restored, a plan for a lasting peace must be established that provides dignity and freedom to both sides, without the fear of attacks and terrorism in the future.
As your representative, I will always work and legislate to eliminate and defend the world against terrorism, and work to resolve the root causes of activity that harms the innocent, and drives people further apart.
We need to help to bring this war to an end, and continue to provide humanitarian aid with the help of other nations, to the Palestinians and other affected groups.
The struggle between the people in the region is as old as time, and may be unresolvable in the absolute. However, I am always hopeful that new leadership and perspective can shed a positive light, creating a new direction, headed toward peace and understanding.
Growing up in the 1960's, during the Civil Rights' Movement, I do not understand why a small percentage of our population, causes us to still struggle with this. We are all created equal - by law and biology. Our nation is based on life, liberty and the pursuit of happiness. Laws to provide protection against discrimination have been enacted, and now, we see a number of those protections under attack.
Tragedies such as the shootings in Buffalo in 2022, are prime examples of the racial hatred that is still prevalent in our country and we need to address all of the potential solutions, and put a plan into reality.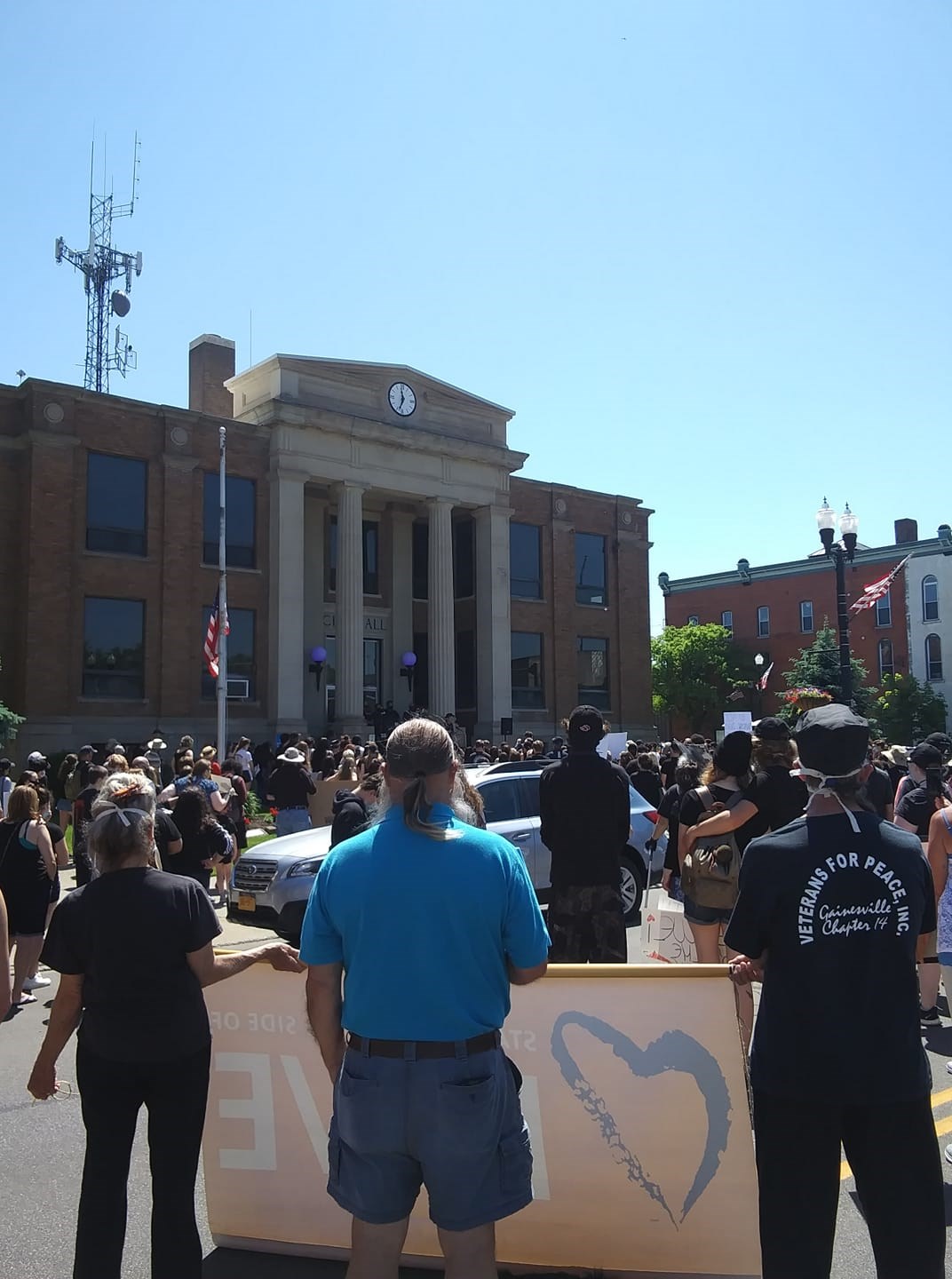 I will be a candidate that will listen to further understand the divides between us. I will support all initiatives that promote unity and equality. I will fight discrimination in all forms. We can no longer tolerate, intolerance.
I will work with community groups to reach those in need of more effective representation.
I have many personal examples to draw from that demonstrate the positive outcomes that we can achieve when we work together, regardless of our national origin, religion, language, gender, orientation or the pigment of our skin. I would hope to be able to share my experiences with everyone as the campaign moves forward.
We have to do better!
Border Security
Facts:
1)We all want secure borders.
2)The US Border is not an 'open border'. Both the number of border agents and the use of technology to secure our southern border are at an all time high.
3)There is an unprecedented surge of migrants and asylum seekers due to harsh conditions in Central and South America.
4)The Trump administration dismantled the infrastructure that was working well for the USA, and the asylum seekers, and achieved record numbers of deportations. The Trump administration reduced the number judges and those processing applications for immigrants.
5)The Republican-led, majority in the House of Representatives could reform immigration and resolve the issues surrounding the border, if they chose to.
My interpretation of the border issue, is that our current representative does not tell the whole story on the border and immigration issues.
-he knows that there is a Republican majority in the House, yet no meaningful legislation has been offered up. No legislation to correct the border crisis. No legislation to reform immigration policy. No legislation to protect the "Dreamers'. No legislation to certify immigrants into any status of legal work to alleviate our unemployment numbers to boost the economy.
-he knows that the border wall does little to reduce any migration, yet, he continues to request additional work on it.
-he knows that we have more border agents and surveillance technology in operation than ever before, yet, he acts like there is not.
-he knows that the last administration reduced border protections and the numbers of judges to process illegal immigrants, dismantling a functional and effective asylum/deportation process, and that more is being done than ever before, yet he will state falsities about the situation.
-he knows that catch and release is no longer the policy for immigrants, yet he acts like it is.
-he knows that everyone in law enforcement is focused on child trafficking, yet, he acts like they are not.
Generally speaking, Langworthy is part of the problem and not the solution. He knows the truth, yet, sounds off on what is already being done, rather than sponsoring proper and effective legislation to resolve immigration, once and for all!
The reality is that with a group that represents all of the border stakeholders, a process to improve all aspects could be developed, legislated and passed, and put into action, if the Republican majority in the House of Representatives wanted to correct the problem.
Americans with Disabilities
The rights of the disabled to be able to move freely in society is dependent on physical changes to homes, places of business, parking lots, means of travel and much more. Though the American with Disabilities Act has made a difference for the disabled, there is more to do. Compliance with changes that accommodate the disabled can mean greater mobility and additional business to those that make the step toward inclusivity.
The rise of the 'baby boomers' into retirement age, has magnified the gaps that we must address going forward. Issues of the disabled are issues of the able. We must continue to make the world more accessible for everyone in all regards, whether it is new construction, existing structures, availability of accessible rest rooms, or the heights of beds in hotel rooms.
Disability rights are human rights.
Today's economy is strong, with steady job growth, the lowest unemployment in decades, increased private/corporate spending, teamed with bi-partisan bills, that will continue to stimulate the US economy for years to come! The latest GDP growth of 4.9%, is beyond forecasts!
We are the leading economy in the world, and have recovered from the pandemic better than every other nation!
The Inflation Reduction Act has many aspects to it that will strengthen all businesses, promote employment, increase wages and develop needed infrastructure. The CHIPS Act is bringing the micro-chip and associated technologies home from overseas - which will be a huge addition to our overall GDP. These types of stimulus came from 'good government', that worked to build the new economy from the 'bottom up, and the middle out' and they are already working for us, with much more to come! And, more than 200 billion in private investment for these acts has already happened!
Of course, inflation continues to be a concern and is part of the world-wide conversation. The FED has raised interest rates for the past 2 years to cool the economy and bring inflation under control. It is working, with inflationary rates dropping closer to pre-pandemic levels. However, we are not where anyone wants us to be just yet, though a recession no longer appears inevitable. Once all is stabilized, the interest rates will be brought down.
The causes of the inflation that we have experienced, began pre-pandemic, with the trade wars with China, de-regulation in the banking sector, supply chain breakdowns during the pandemic, and the corporate tax cuts of the last administration, when the economy and Federal debt did not warrant it. Adding the stimulus packages on top of all else, created inflation.
The pandemic's impact on the global supply chain caused businesses to close, consolidate, lose employees and disrupt their supply. As these businesses continue to recover, supply is affected negatively, though demand is increasing. It takes a minute to disrupt a supply chain and it sometimes takes years to repair it. There has been great improvement in the past 2.5 years.
Trade wars initiated by the last administration have contributed to the current problem. Tariffs levied on imports created disruptions and shortages, as those companies that were impacted changed suppliers and/or customers. "America First' is a great catch-phrase if implemented properly, taking into consideration that no country exists by itself, and that supply chains do not change to your benefit with the mere declaration. Planning for shortages and bridging the gaps, while converting to a more internal-supply-economy would have made more sense, and likely have reduced the shortfalls we experienced, that is all improving today.
Fuel prices are linked to every cost and they have been artificially inflated by the oil companies and the suppliers, such as Saudi Arabia. The largest companies are posting record profits and have not increased production. Though we like a free market in the best of times, the 'practice of gouging the consumer' whenever there is the opportunity, as in the pandemic and the first weeks of an overseas war, we needed legislation enacted to prevent it. As with big oil, they raised their prices prior to any increase in their cost and the supply is lower because they are keeping it that way. Their strategy of maintaining a short supply now(Saudi Arabia), is intended to drive the price up, after two years of high supply during the pandemic, which created lower demand and lower prices. The last administration worked with Saudi Arabia to reduce production to elevate prices, and the Saudis continue to keep the production lower than pre-pandemic, to maintain the margins of profit. The current administration has helped our own oil companies increase production, which keeps our pricing stable, as compared globally.
Across the board, we need to work to increase competition in the industrial sector to allow the law of supply and demand to work as it was designed. Competition is good for everyone. Employers need to make their profits, of course, though without taking advantage of supply shortages and outside circumstances(gouging). Supply issues due to global sourcing, the scarcity of raw materials and 'just in time' inventory practices can cause delays on vital goods, such as in the micro-chip sector, and its impact on new and used vehicles. 'Made in America' is a good thing and the CHIPS Act is key to the future of industry! With additional manufacturing also comes distribution opportunities and a whole host of other supporting businesses.
The investment in the labor force is key to the economic health of our nation. The number of people that have made career changes as a result of the pandemic-effect is driven by the need for higher wages and better benefits. Key industries with content and well-compensated employees, still require supply chains to function. Many of the supply chains are still rebounding and adjusting to the new employment concerns. In every aspect of the economy - manufacturing, supply chains, service - these concerns are real, and change must continue to occur to keep all of the sectors healthy.
The Truth about the American Economy.....
We always hear that the economy could be better, when it is as good as it has ever been! The GDP was 4.9% during the last quarter of the year!
The economy was not better under the previous administration. In fact, it was ranked 7th against economic metrics of the last half century.
Some other economic factoids:
-The USA GDP is 23 trillion,
-We have the world's largest economy, which emphasizes by private ownership,
-10 of the last 11 recessions were under a Republican President,
-GDP growth averages just 2.5% under Republicans, and 4.3% under Democrats,
-The only Presidents that have lowered the annual deficit are Democrats, Clinton, Obama and Biden,
-Of the 7 Presidents with the highest job creation numbers since 1945, 6 were Democrats,
-8 of the 10 poorest states in America are controlled by Republicans,
-Our government is smaller at 38% of GDP than European governments that range between 44% and 57%,
-Americans have a higher pre-tax reward and higher per capita income than all other developed nations.
We have a tremendous economic system, that can continue to be improved upon through education to target future skills sets, well-thought-out tax and regulatory legislation and proper policy-making.
We need representatives that know how to solve problems, and have their eye on the future of America!
As the pandemic wound down to an endemic, we entered a correction phase in the labor market with many leaving jobs that have not provided healthcare or a living wage, creating openings in the labor market in the vacated positions. Record numbers of people are retiring. Despite all of the changes, unemployment has returned to pre-pandemic levels of less than 4%, and has been as low as 3.5%, with wages increasing.
Securing major employers for our district, we would do well to focus on infrastructure improvement for industrial development zones, along the 86/17 and 90 systems. Combining with infrastructure and opportunities to attract business, we need an educated and qualified workforce. The development of our residents through vocational training and education programs is exactly what we need. When companies are looking for places to land their business, they look for primed and ready locations and the availability of a well-trained, talent pool. I can aid and support the counties that have existing teams, as well as those that do not. We cannot wait for business to come knocking on our door - we need to prepare!
Similar to what I have done in my career with private companies, I will collaborate with the economic development teams of each county and municipality, and with the industrial leaders in the district to determine their needs and do my best to help them achieve their goals.
The pre-work gets you the 'work-work'.
Access to affordable Healthcare should be available to everyone, not just those employed by a company that provides it. In the industrialized world, the USA is the only country that has thousands of bankruptcies each year due to medical debt.
I will support initiatives aimed at addressing our healthcare system to ensure affordable coverage for all. No one should have to worry about coverage and care. Those with employer-sponsored healthcare, no change is necessary, other than making plans more portable and affordable.
We have some of the best medical facilities and personnel in the world, and it is time for the system to catch up to the level of care possible for all of our citizens! And yet, with some of the very best medicine and medical abilities, we have regions, like ours, that are under-equipped and understaffed! Having recently witnessed shortcomings, first-hand, I can speak to issues that will work to improve access to state of the art medical care for everyone!
On a similar note, our pharmaceutical companies are excellent, yet, for many, insulin had become unaffordable. With the passing of recent legislation, we may have solved the insulin costs for millions of Americans, with hope of reducing costs on other medications, as well.
Healthcare should be available to everyone and affordable.
Every single American should be able to cast their vote and have it counted. I supported the John Lewis Voters' Rights Act and those efforts to make our election process accessible to everyone. Unfortunately, there has been work by many state legislatures to reduce access to the polls, after years of increasing it.
The negative changes being made are said to be in the name of 'election integrity', when it appears to be the exact opposite.
The only significant election fraud that I have seen evidence of, is the effort to overturn the 2020 Presidential outcome. This fraud culminated with the January 6th, 2021 attack on the Capitol.
"Stop the Steal" was a hoax perpetrated on the American people.
One of the main reasons that I am running to be the Congressional Representative in your 23rd District of New York, is because our current representative has falsely suggested that the 2020 election was 'stolen' and supports the hoax that it was. Now, we see that the Speaker of the House is an election denier. Worse than that, the new Speaker of the House is considered to be one of the architects of the 'steal'. We need honest, serious and sober politicians that actually support Democracy and the Constitution!(as opposed to saying they do, and then do not!)
We need to replace those that would degrade the institutions of our Democratic Republic, just to maintain their governmental post.
No matter where you stand on major environmental debate regarding climate change, the sheer scale of the issue is beyond the individual to effect change globally. However, we can all agree that it's a good idea to be responsible for taking care of what is within our reach. When leaving our natural world in as good or better of a condition, as we found it whenever we visit it. We should learn to 'cover our tracks' and remove our own footprint on nature, as we go forward. This perspective for making small gains spawned the phrase, 'Think globally. Act locally.'
The commonsense approach to understanding the damages that man-made emissions and chemicals are having on our environment can sometimes provide clarity. When we understand that we cannot breathe or live on the exhaust from our car, it makes sense to limit/eliminate those emissions.
When we understand that we can no longer use the water for drinking when it has been contaminated by oil or other chemicals, we know that we should work to reduce or eliminate them from our watersheds.
The automotive industry can make vehicles that require less energy, with increased mileage. If we encourage them to do so, and it only makes sense, we can save money while cleaning up that portion of the environment!
When we identify chemicals that are hazardous to life, whether it is popular weed-killers, 'forever chemicals', nuclear waste, or something else, we then need to limit or eliminate their use, and incorporate safeguards against future use.
When we protect our waters and our air, we protect our life, which is the natural extension of protecting our planet.
There will always be a need to utilize the natural materials of the earth. The conservation of all natural resources is vitally important and can be increased through education and innovation. 'Conserve, conserve, conserve'. In the desert, you would conserve your water. It only makes sense to conserve other natural resources that have been utilized into the products we use everyday. In most cases, our earth's raw materials, can be used again by following the slogan, 'Reduce - Reuse - Recycle'. The process of conserving through recycling, is good for us and the earth we live on, no matter your stance on the larger issues.
Engineered obsolescence is the practice of manufacturing goods that will not last, creating the need to purchase more. We need to eliminate this practice in favor of reducing the wastes of materials, effort and energy.
Renewable energy sources such as wind and solar can continue to reduce the need for fossil fuels, as their use is expanded and investments in them are made. Renewables may never be the total answer. Nuclear energy may have to increase. Fossil fuels are still required, and will be for the foreseeable future, as we transition to cleaner energy. Since clean energy technology is in its infancy stage, there will be further advances as we incorporate it into our calculations for energy supply going forward, and it should become less expensive and installer-friendly!
Energy conservation programs can be continue to be promoted due to their long-term savings, and incentivized on a larger scale. Take advantage of the many programs that our energy providers offer that can reduce your usage and save you money! Similar to the transition from incandescent light bulbs to compact fluorescent and now to LED, each of us has the opportunity to save hundreds of dollars per year!
We have to protect Social Security! Republicans from George Bush to Donald Trump to Senator Rick Scott have proposed the privatization of our Social Security Administration. They would love to get their hands on that fund, which would be the end of this program that benefits senior citizens, orphans and the disabled!
The Social Security Administration provides monthly benefits to over 65 million Americans, including the disabled and children. Seniors, especially the 'Boomers' live off and support themselves through their Social Security checks.
Social Security has never missed a payment! Legislation to protect this valuable government program needs to be enacted prior to its trust fund 'zeroing out' in approximately 10 years. If we do not act on the SSA funding, benefits will have to be reduced to continue based on current projections. And worst yet, would be the move to privatize it!
Whether it is raising the earnings cap for contributions that is in place, or another solution, or a combination of incremental changes, I will support well thought out measures to protect this incredible and necessary program.
The Social Security Administration has been in place for 80 years and is the sole source of income for many Americans. We must protect it.
As background: I am a gun-owner and have been since I was a teen-ager. My first rifle was a Remington - Nylon 66 and it was a semi-automatic. I purchased it from the original Dick's Sporting Goods, and you can be sure that I was monitored closely and trained by my Dad and his friends, in addition to completing New York State's required Hunter Safety training. I have hunted and shot traps competitively, and own firearms to this day. I only tell you that, to tell you this.......
First and foremost - With 400 million firearms in the hands of the American public, effective changes to policy and the ability to effectively reduce the access to guns, is not going to happen anytime soon! As we work to make America safer, we all need to also work to protect ourselves. Whether you complete training and secure your own firearms to prevent accidents, follow red flag laws to prevent the wrong people from accessing firearms, or evaluate the venues you attend for their security, there is always more that we can do!
Schools, and other public places can be equipped with secure entrances, camera systems, metal detectors and scanners, security systems, and have the equivalent of 'resource officers' on site.
At home, you have the right to defend yourself, beyond locks and a security system.
Secondly, responsible gun owners are used to licensing, training and safety measures to protect themselves, their families and their friends. They are in the Federal Firearms Database. To enact additional measures to prevent illegal sales and/or prevent gun violence by others, does not seem as intrusive as it is sometimes made-out to be.
As a third point, 'Nobody is coming for your guns' - that still holds true! And as your representative, I would always protect the 2nd Amendment!
Most Americans agree with the expansion of background checks and closing gun show sales' loopholes. Most Americans agree with rules on safe storage, trigger locks, raising the age to purchase semi-automatics, waiting periods, and other steps to reduce this 'uniquely, American horror show'. And the majority of Americans want gun violence and mass shootings to be a thing of the past!
We need common-sense regulation of firearms and especially, those described as 'weapons of war'(semi-automatic, oversized magazines, etc) such as those being used in a majority of the mass shootings. Our technological and manufacturing advances in firearms has created weapons that go far beyond the laws and regulations that are in-place, and puts society at risk. 'A good guy with a gun' does not prevent all mass shootings or gun violence and the fact that 'police are standing down' in the face of the new age of civilian weapons are calls for change. We need to take steps to prevent the sale of firearms to those who may do harm to themselves or others, whether they are emotionally distraught, mentally ill, too immature for the responsibility and/or of a terrorist mindset. That requires us to have a system in place that identifies mental health issues, combined with the ability to intervene in the cases that require it. We all know that changes to mental health funding and care will help, and it will not be tomorrow or even next year. Politicians speak of mental health on this issue, yet, they have been defunding this healthcare line item for 3 decades.
Common sense should rule the day on all reform or regulation. With common sense, it is also appropriate to safeguard ourselves and public venues, as improvements and regulation evolve. With the sheer number of firearms in the USA, their abuse does not stop because we are talking about them.
I am willing to meet with gun-owners and their associations to help to find commonsense solutions that we can develop and agree to, in order to reduce access to firearms for those who pose a threat to the community.
Lastly, no matter what we do, with 400 million firearms in circulation, in a country of 330 million people, our annual number of fatalities due to gun shot, will never be zero.
We all witnessed the former president calling out that elections were rigged as far back as 2015, and that he won through the electoral college process, though he lost the popular vote. He began calling out the 2020 election as rigged early on and has maintained that lie. He questioned the outcome of the election and claimed fraud although he lost by 7 million votes.
As a direct result of his lie and rhetoric, a few thousand people came to the Capitol to 'make things right' at the request of their lying president. With the indictments, the investigation has nearly come to a close, and it is likely that the former president strategized and conspired with others to prevent a proper outcome to our lawful election. I favor accountability, once the truth is out and shared.
The election was not 'stolen'. The former president lost by 7 million votes. Tens of thousands of elected public servants took their posts as a result of the last election. Only one, claims fraud.
In order to fortify our institutions and resolve the fraud perpetrated on the American people by the former president, politicians such as Nick Langworthy cannot represent us. The Republican party needs to re-invent itself, and return to being a pillars for truth, justice, fair play, following the Constitution, believing in law and order, just like they used to. We can no longer follow those that are ill-suited for public service.
We almost lost our democracy on January 6th, 2021.
If we are not careful, in 2024, we may vote ourselves right of our democracy!
We all have compassion for the unnecessary tragedy and loss of life taking place in Ukraine. Though the responsibility for the entirety of this war lays squarely on Putin and Russia, the former president is also culpable:
For not addressing the Russian bounty with Putin, that he had placed on our troops in Afghanistan,
For de-stabilizing and attempting to weaken NATO,
For ending the 'Open Skies' treaty with Russia,
For attempting to extort Ukraine and delaying 350 million in congressionally approved military aid,
For dismissing our Ukrainian ambassador over the same scheme in which he was withholding the military aid,
For siding with Putin against USA intelligence agencies regarding Russia's attempts to impact our election process,
For disrespecting the FBI on the presence of Russian diplomats in the Oval Office,
For weakening our global authority through his actions on the Iranian Nuclear Deal and the Paris Climate Accord,
For refusing to share his interpreter's notes after a private meeting with Putin,
For removing all forces from Syria, allowing Russia to command the region, leaving the Kurds abandoned.
I stand with the Ukrainian people, as they stand for democracy and freedom.
Supporting the Ukrainians is about defending the rights of a free people, and supporting international law.
The drug epidemic has struck close to home for many of our citizens. I have lost two members of my family to drug use over the past 35 years and can relate to the loss that is shared among so many of us. The 'War on Drugs' is more than 50 years old, and has not protected our people as it was intended to. Whether it is opioids, meth or alcohol, preventing addiction is as important as ever. Fentanyl is the new 'killer'. A new strategy is in order. I will work with the task forces within law enforcement to understand their issues and support initiatives that reduce the influx of drugs into our communities. Providing the tools for law enforcement to 'get the drugs off the street' is key to solving this crisis.
Another key to the fentanyl crisis is to work directly with the source nations, especially, China.
The other piece of the puzzle is to keep pace at the other end of the issue - preventing addiction. And, when addiction occurs, how does the system come to the aid of the individual. I will meet with County and Municipal leaders, and their teams to develop plans to hopefully, reduce addiction and improve recovery outcomes.
And, of course, we must continue to look to the educational aspects of prevention with research, programs and funding.
Dysfunction in the House of Representatives
The current chaos and dysfunction in Congress, especially in the House, is ineffective and embarrassing. The antics of 11/15/23 in both the House and Senate leave us wondering about these elected representatives. Combined with other members of Congress that have been elected that are unfit for the task of leading America, we all need to review our priorities and vote to improve America, restoring personal integrity in our government, at all levels.
Though it may seem exciting to vote for the 'firebrand' candidate, there is so much more to consider when 'hiring' a representative that must work with others effectively. The people that we elect must have a belief in the nation thriving, while maintaining its integrity and caring for all of our people. And right now, we have a group of elected representatives that are trying to 'burn down the house' that we all live in, rather than make what we have 'better'!
Owning a piece of that dysfunction and chaos is Nick Langworthy. He has supported Jim Jordan in his quest to become the speaker of the House. He is proud of his support of the former president, and will undoubtedly be in favor of circumventing justice, if so instructed by party leadership. He supports the worst of the current republican trouble-makers, who would cut benefits to seniors and veterans, continue to play to the wealthy, drive wages down, destroy education, eliminate a woman's choice, shutdown our government over politics and ignore environmental concerns.
I can provide you with at least one voice in Congress that you can count on to be serious, reasonable and effective!
What the 2024 Election is Really All About - Beyond the Incumbent
Most of what you will hear from me is what issues we need to address in Congress. Congress exists to solve problems and enhance our lives! However, there is more to the upcoming election than legislating a few solutions....
With what we are hearing from Donald Trump on his plan for America, the next election is about 'saving Democracy'! Though every election is labeled as 'important', it seems as if we have reached critical mass and need a reset, or we will face a Donald Trump - 'dictatorial regime'!
The Democrats need to win and we need to return the Republican party leadership to a group that 'really' represents their people, and follows our Constitution!
Our current representative is a follower of Trump and will vote against the 'will of the people', if instructed to do so, by the extreme right of the Republican House or President Trump.
Reviewing the list, you will see that they do not represent the majority of Americans, the concept of freedom and what we have come to expect from our government.
The current Republican leadership represents the following:
-Reducing/privatizing/eliminating Social Security and Medicare,
-Reducing and delaying funds to Veterans and veterans services,
-Delaying Military decisions - compromising national security,(Tuberville)
-Delaying Department of Justice decisions - compromising rule of law,(Vance)
-Delaying Department of State decisions - compromising foreign policy,(Paul)
-Delaying Supreme Court appointments,(McConnell)
-Shutting down government over legislative decision-making,
-Reducing/eliminating social programs such as SNAP,
-Lacking respect for military sacrifices, and making derogatory remarks towards soldiers,
-Are against a Woman's right to choose the size and timing of her family,
-Have begun banning books, and threatening to penalize educators,
-Subverting the US Constitution, threatening to re-write it,
-Carrying out an Insurrection, based on a lie, and election denial,
-Pardoning convicted criminals they have conspired with,
-Lacking in belief in 'Law and Order' within the government,
-Tax Evasion is acceptable,
-Fraudulent business practices are acceptable,
-Mishandling of foreign policy,
-Mishandling of domestic policy,
-Failure to address immigration policy, kids in cages, family separation, new threatening practices involving the military on the border,
-Failure to provide for infrastructure,
-Failure to improve healthcare,
-Failures during Pandemic in communications, misinformation, conspiracy theories, supply chain, and shutdowns,
-Discrediting governmental institutions - the military, the CIA, the FBI, the DOJ, the IRS, educational institutions,
-Discrediting professional sports and athletes,
-Discrediting news sources and investigative journalists, causing threats and deaths of reporters,
-Embarrassing views on science and technology - 'nuking' hurricanes, bright lights to destroy Covid 19, as well as drinking bleach, taking veterinary medicines ivermectin and Hydroxychloroquine, masks and vaccines, staring at eclipses, Jewish space lasers causing wildfires, and raking forests to prevent wildfires,
-Promises of revenge and retribution, and pardons for insurrectionists, if re-elected,
-Stated use of military to secure return to office, calling for Marshall Law to stay in office against the will of the people,
-Continued use of threatening rhetoric to threaten and inspire attacks on opposition, judges, officials, witnesses,
-Continued creation of disinformation and fraud to return to power, while accusing others of doing it,
-Speaking complimentary about dictators, Putin, Orban, Xi and Kim,
-Speaking harshly about our Allies, and third world as s**t h**e countries,
-Broke down supply chains, lost jobs, created trade war with China, placed tariffs on their goods,
-Giving tax breaks to wealthy, increasing national deficit,
-Withheld and would not return top secret documents, then lied about them,
-Multiple sexual misconduct allegations, and a civil verdict against,
-Reductions in funding and lack of support in any environmental protection,
-Cronyism at the highest levels of government, family in the White House, fossil fuel people in the EPA, and threats of more if elected again,
-"trickle-down economics' which have never worked for anyone but the wealthy,
-And now, we hear the former president say that he would seek revenge on all political and legal enemies, load the government with his own loyalists and make the power of our democracy, his own!
This was a list of what we are up against in 2024 - and I am hoping that my Republican friends read some of it and understand the difference between the choices that we make. If you are a Republican, join us in preventing a 'total upheaval' of our government and the systems that have served us for more than two centuries. I promise to be an even-handed representative, promoting all that is good for our congressional district, and the people in it!
tc in 2024